The Museum of Old and New Art in Hobart has launched an advertising campaign featuring the one-star reviews it has received.
the The best of our worst reviews campaign, the Tasmanian attraction's first-ever branded campaign, reuses the museum's wildest criticism to promote how MONA and its collections have been confronted and difficult for some past visitors to understand.
Led by a series of cinematic digital videos, the 60-second ad offers a subversive new use of poor reviews and was released despite, as a press release explained, the "contempt for publicity" of MONA owner David Walsh.
Introducing the campaign, MONA Chief Creative Officer Jardin Anderson said, "David may hate publicity, but he likes honesty. And the truth is, some people love Mona, and some people hate Mona. Fortunately, we think all opinions are valid. So valuable, in fact, that we'll put them on a notice board on Parramatta or Punt Road.
"Mona gets more one-star reviews than the Louvre, on just 10% of visits. David loves this stat. We're also getting more five-star reviews, but that's a less appreciated metric.
The quotes featured in the campaign are collated from real-world reviews shared over the decade since MONA opened in 2011, with over 400 incredibly bad one-star reviews from Tripadvisor, Facebook and Google.
The campaign launches this month across social media, on-demand TV, cinema, in-flight and outdoor placements, with a particular focus on the key inbound markets of Tasmania, Victoria and NSW.
Merchandise featuring one-star Mona reviews, as well as an Instagram AR filter, will hit the market in late March.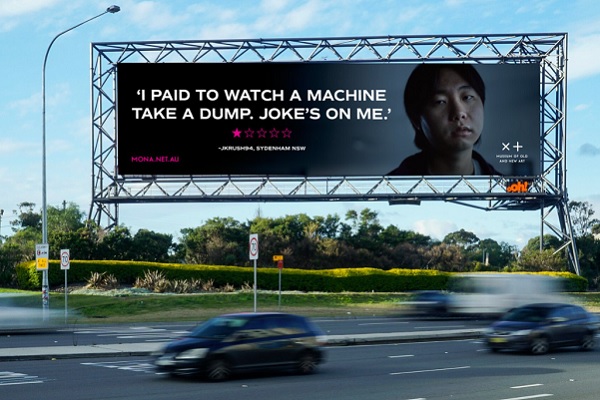 MONA Director of Marketing and Communications, Robbie Brammall, said, "A little advertising spend is a necessary evil as we help Tassie's tourism industry recover from the impacts of COVID.
"But hopefully we do it the Mona way – a misguided and potentially disastrous way.
"We hope to pay for the campaign in sales of bags and t-shirts."
Click here to see more of MONA's worst reviews.
Images show stills and video from MONA's campaign. Credit: MONA.
Related Articles
January 17, 2022 – Tourism Tasmania promotes King Island events and visitor experiences
January 13, 2022 – Additional funding available to support delivery of COVIDSafe events in Tasmania
December 29, 2021 – Arts Tasmania continues to support cultural heritage organizations and activities
December 24, 2021 – Dunk Island developer fined $30 million for misleading advertising
December 15, 2021 – Speedo launches first national ad campaign in a decade
September 6, 2021 – Tasmania's MONA mandates staff vaccinations, reveals expansion plans
December 30, 2020 – MONA in Hobart reopens after long coronavirus closure
November 27, 2020 – MONA's imminent reopening will help boost Tasmania's tourism industry
September 28, 2020 – Mona Foma announces 2021 dates for Launceston and Hobart
March 17, 2020 – HOTA and MONA are closing to prevent the spread of the coronavirus
January 5, 2020 – Hobart's MONA underground tunnels challenge visitors
May 23, 2019 – Feared Tasmania MONA funding could be used as 'political football'
December 14, 2018 – MONA Drops 'Offensive' Headline to Reveal Plans for New Motown Hotel
November 27, 2018 – Proceeds from planned sale of Elizabeth Street Pier to help MONA's vision
21 October 2018 – MONA Inspiration for Gold Coast Hinterland Resort and Gallery Development
June 26, 2018 – Tasmanian Government supports Mona Foma's move to Launceston
December 11, 2016 – MONA unveils plans for Reconciliation Art Park in Hobart
December 15, 2015 – MONA Founder Reveals Casino and Hotel Development Plans
June 14, 2015 – Tasmanian tourism could grow its business by catering to people with disabilities
---
Support our industry news service
We hope you enjoy the news we post, so while you're here can we ask for your support?
As an independent publisher, we need reader support for our industry intelligence gathering, so ask – if you're not already – to support us by subscribing to the print version. Australasian Leisure Management magazine and/or our online news.
Click here to see our subscription options.