With many consumers spending much of 2020 inside their homes, the opportunities for them to get out and enjoy the outdoor spaces of their favorite cities are greater than ever. Advertising trends are also changing, with more marketers paying attention to valuable outdoor spaces as a way to market themselves to these consumers.. Demand for out-of-home advertising inventory (OOH) is skyrocketing. eMarketer predicts that digital out-of-home spending (DOOH) will grow from $ 2.72 billion in 2020 to $ 3.84 billion in 2023.
Besides the fact that consumers are more on the outside, there are also practical reasons for the growing interest in DOOH, often linked to brand safety. New technologies provide many benefits of the online marketing experience while bypassing privacy, fraud, ad blockers, and other issues that face online-only advertisers. Firefly is a street-level digital media platform that connects audiences with dynamic advertisements on taxis and ride-sharing vehicles and uses these cutting-edge technologies in spaces where traditional outdoor advertising may be limited.
Firefly time stamps the latitude and longitude coordinates for each of its displays every few seconds using Wi-Fi, Bluetooth and GPS technology and proprietary algorithms. As a result, brands can leverage this technology to deliver the most relevant content at any given time to outdoor consumers.
"Our screens are constantly ringing our ad servers, extracting the most relevant content to display on our screens based on the location of the car, the time of day or even the content triggered by the weather," says Rob Madelmayer. , vice president of sales for Firefly.
To effectively spend their marketing budgets, brands need to understand emerging DOOH technologies, why their relevance is increasing, as well as design best practices for creating eye-catching outdoor campaigns.
OOH measurement and attribution
While it's relatively easy to ignore a TV or mobile ad, street-level advertising is not intrusive, blends into the environment around you, and captures the attention of potential audiences where they live. , work and play.
Coupling this unique value with measurement capabilities opens up new use cases for brands.
Over the past year, Firefly has developed a measurement methodology called Street.IQ which relies on live data to optimize the performance of the in-flight OOH campaign. Madelmayer explains that the tool analyzes how on-screen creative, time, day of the week, and location affect performance, allowing brands to adjust spending accordingly.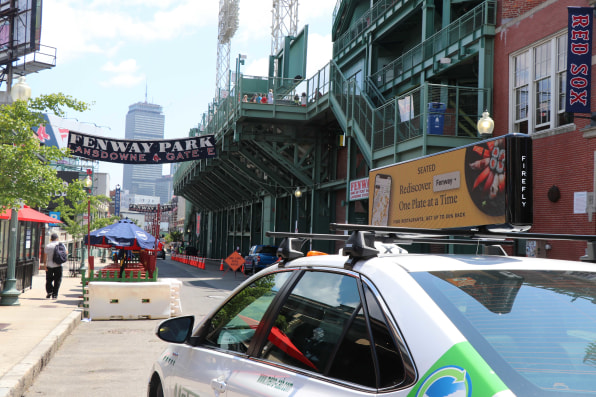 "In 2021, there is no reason for anyone to wait until the end of a campaign to find out whether or not a campaign is successful when we know there is a better way. As you would expect from other digital media platforms, our technology allows advertisers to optimize campaigns on the fly, "he says.
Firefly also offers sophisticated attribution solutions, working with data partners to track mobile devices exposed to a Firefly display and then measure the number of actions taken, such as entering a store, measured by geolocation, or downloading an application.
Recently, Firefly helped sustainable footwear brand Allbirds uncover valuable insights that led to in-store results. After 10 days of running ads featuring shoes in their signature gray color, Firefly suggested using secondary brand colors, like blue and purple, based on what the data showed week after week. While this may sound like a subtle change in strategy, the change has resulted in a huge increase in foot traffic.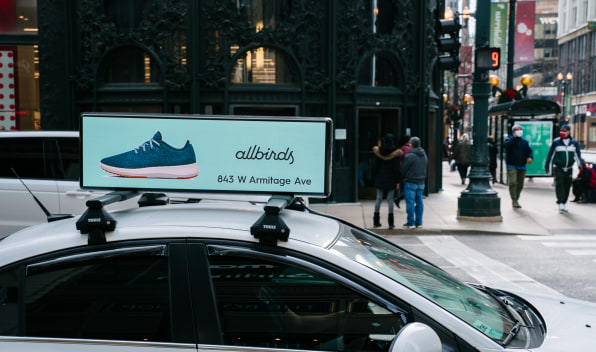 Steven Rivera, director of creative services at Firefly, says Allbirds has used this information to improve its media spend on other channels as well.
Creativity drives performance
Rivera explains that while advanced technologies are crucial, best design practices are just as important. Brands need to address the innate characteristics of display advertising and use dynamic triggers to make ads more relevant.
"Then you can create some online action and generate some buzz offline," says Rivera.
Firefly helps advertisers design as many ad iterations as they want and redeem them as often as they want at no additional cost. Rivera says it helps advertisers get the most out of real-time targeting.
Other OOH design tips include:
Use movement and animation to grab people's attention. Some brands, including Adidas, have experimented with dynamic countdowns to inform consumers of their proximity to the nearest store.
Aim for eye-catching copies and images and continually test to see what works.
Maintain the call-to-action throughout the creative ad to give the audience enough time to digest the information.
Because Firefly describes itself as "data-obsessed", they are able to provide additional information to advertisers and meet growing customer expectations. As technology continues to evolve, the display industry must evolve with it and meet the expectations of marketers based on what is available through other types of advertising.
"We are not reinventing the wheel; we refine it as technology allows us to do so, "says Madelmayer. "Every dollar invested by advertisers in these campaigns must be optimized to ensure that the right message is delivered at the right time. "