RIP online advertising. Overhaul of the Internet business model.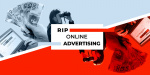 Title of the event: RIP online advertising. Overhaul of the Internet business model.
Event date: 03/10/2021
Time of event: 5:30 p.m. – 7:00 p.m.
End date of the event: 03/10/2021
Description of the event:
Welcome to an ad-free internet that reflects the ideals that created the internet in the first place.
Now how do we sell things? Who pays for the internet and what happened to this business we used to call Google?
The Internet is the perfect example of a utopian ideal gone awry. Built for science communication in the 1970s, our World Wide Web is now at the mercy of organizations like Google and Facebook that sell your data or your attention.
By 2022, digital media advertising is expected to reach $ 427.3 billion. The business model of the Internet is advertising. And you are the product.
Think about the repercussions! The platforms would collapse; income from news sites would disappear; thousands of jobs created around online ads would be redundant and all kinds of businesses would feel the pain. The Internet as we know it would cease to exist.
While that might also mean the end of data misuse and privacy concerns; the democratization of the Internet would increase and potentially murky marketing practice would revert to old-school methods.
Are we ready to keep the Internet ad-free? What if we don't have a choice?
Event location or link: https://www.somethingdigital.com.au/night-nomads/nomad-2/
"Email Marketing Basics Webinar: Automating and Monitoring Your ListsSubscription summit 2021 »